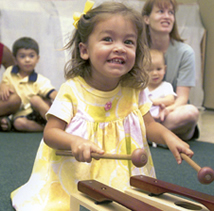 Welcome to Great Beginning School of Music!

We are pleased that you are considering early childhood music and movement classes for your child. Research has shown that all babies are born with an aptitude for music, but that aptitude diminishes if it is not actively nurtured between the ages of birth and nine.

Our goal is to bring the best in early childhood music education to children and their families in a fun, educational and affordable environment. We provide interactive music classes for babies, toddlers, and pre-schoolers in Winnipeg. We also offer group piano lessons for children beginning at age 6.

Music as a Learning Tool
The classes offered by Great Beginning School of Music stimulate brain development by engaging children in singing and movement activities. This interactive exposure to music and instruments will help attune the ear, refine the voice, and develop a sense of rhythm through which music can be expressed.



Musikgarten is the only program that offers curricula for babies, toddlers, preschool through group piano instruction. It is based on a keen understanding of how children learn, in both a general sense and, specifically, how they learn music.
Take a moment to watch a video about Musikgarten. Note: You will need quicktime to view the movie. (The movie will take a few seconds to download before it starts playing.) Click here to watch movie
As you familiarize yourself with our class offerings, we look forward to answering your questions and welcoming your family into our music studio.


Susan Kirton
Early Childhood Music Educator