Class Descriptions
Mistletoe Musikgarten offers music classes for young children of all ages, from birth to age nine (and older) including baby music classes, toddler music classes, and classes for pre-schoolers and kindergarten students. The families at Mistletoe Musikgarten have chosen this music studio for the benefits it offers their children. Read What Parents are Saying to find out more!

By the way, Mistletoe Musikgarten is the only music studio in Fort Worth that offers Musikgarten's integrated music and movement education curriculum from birth through keyboard. And we've been offering Musikgarten in Tarrant County since 1997.
Registration for fall and spring classes is on-going and and continues until all classes are filled.

And remember, younger siblings attend free, if they are younger than the class age-range.
Music Makers at Home (fours, fives, young sixes)
6 weeks (at studio near Fort Worth Zoo)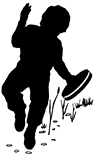 This 60-minute pre-keyboard class cultivates the child's musical development through songs, more complex tonal and rhythm patterns, poetry and stories, movement activities, listening games, and instrumental ensembles. Basic music skills such as pitch matching, beat competency, ensemble development, and music notation are introduced using themes from the child's home environment and natural surroundings.

Parents and younger siblings participate for the first ten minutes and the last ten minutes of class. (Parents are encouraged to remain in the studio waiting area during the class, as their participation in the last ten minutes is essential.)
| | |
| --- | --- |
| Tuition: | $130 (early bird and other tuition discounts available) |
| Materials: | $29.56 (CD, notation games, posters) + $2.44 (tax) |
| Total: | $162 |
---
Music Makers at the Keyboard (fives through nines)
Each semester is 12 weeks or longer.

The final step on the pathway to music literacy, this program is designed to teach the children to play the songs they have been hearing, singing, and dancing to throughout the years of early childhood. An extension of the work done in Music Makers at Home in the World, this class follows a very sequential approach to building piano skills and understanding musical notation as set forth in the books Music Makers: At the Keyboard.

Parents participate at the end of each class. Homework assignments each week include musical games, listening, and daily practice at the keyboard. Parental involvement at home is the key to success.

If your child is new to Musikgarten, this class will be a great fit when your child is seven, eight, or nine years old.
| | |
| --- | --- |
| Tuition: | $22 per week |
| Materials: | $50.81 (two CDs, student book, games) + $4.19 (tax) |
| Total: | Approximately $330 per semester (if 12 week semester) |
---
Private Piano Lessons (keyboard grads / adults)
Weekly lessons throughout the semester
Students who have completed Book 3 of Music Makers at the Keyboard often enjoy paired or private piano lessons. Students build on the understanding and skills developed during their early years. At this point, they begin to find opportunites at home, at school, at church, and in other community organizations for sharing their music joyfully with others.

Adult relearners enjoy strengthening their piano skills through regular lessons, tailored to their needs and abilities.

Adult newbies are welcome here at Mistletoe Musikgarten, too.
| | |
| --- | --- |
| Tuition: | $22 per week for 30-minute private lesson |
| Materials: | purchased as needed |
| Total: | Varies per semester |
---