NOW TAKING REGISTRATION FOR THE SUMMER AND FALL SESSIONS

4 WEEK SUMMER SESSIONS
Reduced schedule.
Please note that families with multi-age children are welcome in the Family Music class. Children ages 1 - 5 love this class. To attend a Cycle of Season's class, children must be 3 years of age and above.
Babies under 1 and children 6 and older attend class for free when accompanying a registered sibling.
SESSION I:
Wednesdays & Thursdays : June 21 - July 13
Saturdays: July 1- July 22

SESSION II:
Wednesdays & Thursdays: July 19 - August 10
Saturdays: July 29 - August 19
*Make-ups allowed for missed classes.

FALL SESSION 14 Weeks
September 5 - December 15
(No classes November 21 - 25)

_________________
At Musikgarten of Oak Park we teach you how to show up to your child's life with loving minds and joyful hearts. Our mission is to inspire you to be dynamos of playful love-in-action. We partner with parents and caregivers to nourish the mind and heart of the child through music and movement, poetry and storytelling.

Musikgarten believes that all children have musical aptitude and artistic promise and that early childhood is the opportune time to begin to develop this potential in an active, joyful, and developmentally appropriate way. We make sure that every step of the way the parents and caregivers partner with the teachers and children, keeping their relationship to music and learning affectionate, playful, enthusiastic and connected. The songs, musical activities, stories, poetry, instrumental play, and appreciation for nature are enjoyed in the context of family togetherness.

Classes promote musical literacy, singing and rhythmic skills, aural perception, language development, motor coordination, ensemble skills and loving interaction while awakening the child's imagination and creativity. Instrumental activities are part of the program, ranging from playing simple rhythm instruments to playing keyboard for older children.
​Our approach to music education is fun for children, parents and teachers. As a result of our sequential pathway to music education, children can become independent, thinking musicians. To foster music literacy, Musikgarten offers a comprehensive early childhood program that spans the first nine years of a child's musical development. Children love the progression from semester to semester, as patterns and songs are repeated and built upon, addressing students' needs at each level.
Our philosophy

When music and movement are a natural, joyous part of childhood, children benefit greatly in many areas of life. Language development, self expression, memory skills, concentration, social interaction, fine motor skills, listening, problem solving, teamwork, goal setting, and coordination are all impacted by early music and movement education. What's more, as a child learns to play music, other areas of development — creativity, family bonding, self-esteem, confidence, emotional development — are also positively impacted.


Musikgarten's philosophy is steeped in this understanding. Movement and music activities are perfect for child development. Music immerses the child in language, evokes movement, stimulates the brain, and fosters physical coordination — all in a group setting that builds community — a truly holistic experience.
"Children must receive music instruction as naturally as food, with as much pleasure as they derive from a ball game, and this must happen form the beginning of their lives." Leonard Bernstein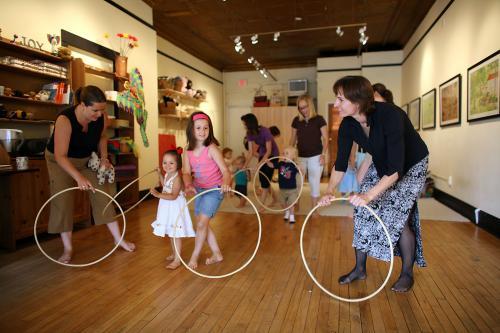 Photo by Frank Pinc
Take a moment to watch a video about Musikgarten Note: You will need quiktime to view the movie.
Click here to watch movie
---