NOW TAKING REGISTRATIONS FOR THE FALL MUSIKGARTEN CLASSES
Musikgarten of Oak Park and the Actors Garden have moved to their new studios at 907 & 909 South Lombard Avenue!
(next to the Buzz Cafe)
14 WEEK FALL SESSION
September 8 - December 19 (No classes November 24-28)
See Fall classes posted on our Class Schedule page.
5 WEEK SUMMER SESSIONS
Our second summer session is

currently in progress, and we are happy to prorate tuition for the remaining classes! See our Class Schedule page for the summer schedule. Register online or email Katy at musikgartenoakpark@gmail.com to jump in!



4 WEEK SESSION OF ZUMBA


July 6 - August 2 Ages 16 - adult.
Schedule on our Class Schedule page. Drop-ins welcome ($10/class). Email Katy at musikgartenoakpark@gmail.com for more info!
______________________________________

When music and movement are a natural, joyous part of childhood, children benefit greatly in many areas of life. Language development, self expression, memory skills, concentration, social interaction, fine motor skills, listening, problem solving, teamwork, goal setting, and coordination are all impacted by early music and movement education. What's more, as a child learns to play music, other areas of development - creativity, family bonding, self-esteem, confidence, emotional development - are positively impacted.

Musikgarten's philosophy is steeped in this understanding. Movement and music activities are perfect for child development. Music immerses the child in language, evokes movement, stimulates the brain and fosters physical coordination - all in a group setting that builds community - a truly holistic experience.
We believe that:

All children are musical.

Music meets the needs of children.

Music benefits the whole child, must be introduced early and must involve the family.

By using only the highest-quality educational resources and instruments, we can help deepen a child's appreciation for music and the natural world around him, building a foundation for life-long music making.

Providing an appropriate musical experience and following a carefully sequenced approach to music reading allows a child to participate fully in musical experiences of all kinds.
Our approach to music education is fun for children, parents and teachers. As a result of our sequential pathway to music education, children can become independent, thinking musicians. To foster music literacy, Musikgarten offers a comprehensive early childhood program that spans the first nine years of a child's musical development. Children love the progression from semester to semester, as patterns and songs are repeated and built upon, addressing students' needs at each level. The Musikgarten experience culminates in group piano lessons.


"Children must receive music instruction as naturally as food, with as much pleasure as they derive from a ball game, and this must happen form the beginning of their lives." Leonard Bernstein
---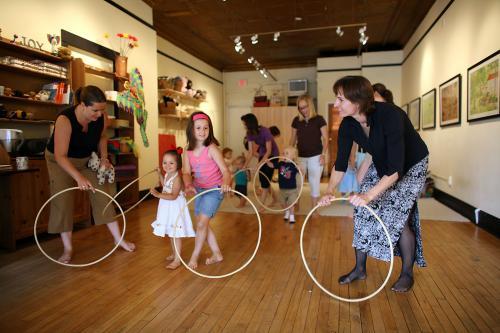 Photo by Frank Pinc
Take a moment to watch a video about Musikgarten Note: You will need quiktime to view the movie.
Click here to watch movie
---