14 Week Fall Session 2016
September 6 - December 17
14 WEEK WINTER SESSION 2017
FRIDAY, JANUARY 6 - APRIL 20


(No classes March 27 - April 1)
FREE PREVIEWS
Monday, December 5 & 12
Family Music for Babies (Baby to 17 mos.) 11:30 A.M.
Family Music 9 A.M.
Cycle of Seasons (3 - 5) 6:15 P.M.
Music Makers at Home (4 ½ - 5) 1:15 P.M.
Tuesday, December 6 & 13
Family Music (17 mos. – 3 years) 10:30 A.M.
Wednesday, November 30 & December 7 & 14
Family Music for Babies (Baby to 17 mos.) 10:15 A.M. & 11:30 A.M.
Family Music (17 mos. – 3 years) 10:45 A.M.
Cycle of Seasons (3 - 5) 9:45 A.M.
Thursday, December 1 & 8 & 15
Family Music (17 mos. – 3 years) 10:45 A.M.
Music Makers at Home (4 ½ - 5) 1 P.M.
Friday, December 2 & 9 & 16
Family Music (17 mos. – 3 years) 9 & 9:45 A.M.
Cycle of Seasons (3 - 5) 10:30 A.M. & 12 noon
Advance registration is required.

Classes posted on our Class Schedule page.
_________________
When music and movement are a natural, joyous part of childhood, children benefit greatly in many areas of life. Language development, self expression, memory skills, concentration, social interaction, fine motor skills, listening, problem solving, teamwork, goal setting, and coordination are all impacted by early music and movement education. What's more, as a child learns to play music, other areas of development - creativity, family bonding, self-esteem, confidence, emotional development - are positively impacted.
Musikgarten's philosophy is steeped in this understanding. Movement and music activities are perfect for child development. Music immerses the child in language, evokes movement, stimulates the brain and fosters physical coordination - all in a group setting that builds community - a truly holistic experience.



We believe that:

All children are musical.

Music meets the needs of children.

Music benefits the whole child, must be introduced early and must involve the family.

By using only the highest-quality educational resources and instruments, we can help deepen a child's appreciation for music and the natural world around him, building a foundation for life-long music making.

Providing an appropriate musical experience and following a carefully sequenced approach to music reading allows a child to participate fully in musical experiences of all kinds.
Our approach to music education is fun for children, parents and teachers. As a result of our sequential pathway to music education, children can become independent, thinking musicians. To foster music literacy, Musikgarten offers a comprehensive early childhood program that spans the first nine years of a child's musical development. Children love the progression from semester to semester, as patterns and songs are repeated and built upon, addressing students' needs at each level. The Musikgarten experience culminates in group piano lessons.

"Children must receive music instruction as naturally as food, with as much pleasure as they derive from a ball game, and this must happen form the beginning of their lives." Leonard Bernstein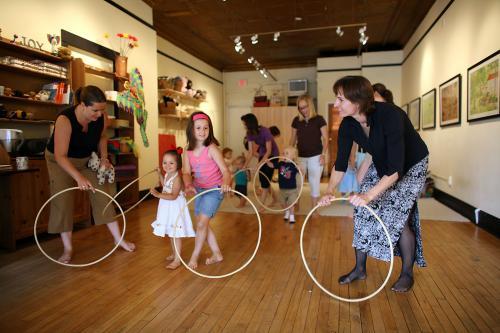 Photo by Frank Pinc
Take a moment to watch a video about Musikgarten Note: You will need quiktime to view the movie.
Click here to watch movie
---
Afrovibe at Musikgarten
Thursdays: 6:45 P.M.
Advance registration is required. To sign up please go to:
For more information, please contact Dr. Scott-Hall at culturefitness@gmail.com
Attendance is limited to 10 participants.
Class fee: $10 a class. Bring your payment to class. Bring cash or check (payable to: Musikgarten of Oak Park) to class each time. All profits support a House in Austin.
To learn more, please visit A House in Austin's website: www.ahouseinaustin.org.
Dr. Hall-Scott writes, "I love teaching Afrovibe™ for many reasons! Afrovibe™ is defined as an "audacious cocktail of style", allowing you to be bold and daring in your dance and fitness practice. Afrovibe™ has a freeing quality. It's encourages release of the spine, hips and pelvis; you feel so light and unburdened after class! It is also polyrhythmic - encouraging you to stomp, roll, "whine" and groove, all within the same move for a great workout! Afrovibe™ gives the gift of Africanist dance to everyone, inviting us to reclaim our bodies and empower us cross-culturally. Afrovibe™ motto is "Everybody can vibe with Afrovibe" because it encourages community! With Afrovibe™, I am free to step out the rigid parameters of my American-Mommy-Scholar life, and simply enjoy moving with others. Give it a try; you won't regret it!
Afrovibe™ is a French Afrocentric dance workout created by Doris Martel, Dancer and Sports Massage Therapist and Maryam Kaba, Dancer and renowned Celebrity Trainer.
Afrovibe™ is revolutionizing the fitness world as it uses dance techniques to engage all of the muscles at once with every move.
Afrovibe™ is a unique dance cardio workout built around Afro dances (from Africa, the Middle East, the Caribbean and Brazil), Squats, standing strength and conditioning choreographies.
Afrovibe™ features Afro music from all around the world. Traditional music, drums, afro house, afro jazz, samba, socca, raggamuffin and much more.