________________
Musikgarten believes that all children have musical aptitude and artistic promise and that early childhood is the opportune time to begin to develop this potential in an active, joyful, and developmentally appropriate way. At Musikgarten of Oak Park we encourage you to show up to your child's life with loving minds and joyful hearts. We make sure that every step of the way the parents and caregivers partner with the teachers and children, keeping their relationship to music and learning playful, meaningful, and connected. The songs, musical activities, stories, poetry, instrumental play, and appreciation for nature are enjoyed in the context of family togetherness.
Musikgarten's curriculum is established in research-based, tried-and-true, and holistic practices that grow the heart, mind, and body of the child. Classes promote musical literacy, singing and rhythmic skills, aural perception, language development, motor coordination, ensemble skills, and loving interaction while awakening the child's imagination and creativity. Instrumental activities are part of the program, ranging from playing simple rhythm instruments to playing keyboard for older children.

Our approach to music education is fun for children, parents and teachers. As a result of our sequential pathway to music education, children can become independent, creative musicians. To foster music literacy, Musikgarten offers a comprehensive early childhood program that spans the first nine years of a child's musical development. Children love the progression from semester to semester, as patterns and songs are repeated and built upon, addressing students' needs at each level.
HeartGarden

We are eager to inspire a new generation of parents to nurture creativity and living virtues in their children's hearts. There is an art and a science to loving children wisely and guiding them to be creators (as opposed to consumers) and to be a blessing in life.

At Musikgarten of Oak Park and HeartGarden we make a special effort to put a high premium on loving community and creativity as we nurture children and grown ups in the arts. We bless children and the larger society when we cultivate the heart values of compassion, truthfulness, and reverence for creation.

Our expanded classes, workshops, and events are designed to embody artful, experience-based learning for children and adults. Creative art, music, and movement prepare the soil for a lifetime of exuberant love and community engagement. Together we can cultivate a heartful garden and lead the way for families and communities everywhere to grow toward the light.




To learn more visit: HeartGarden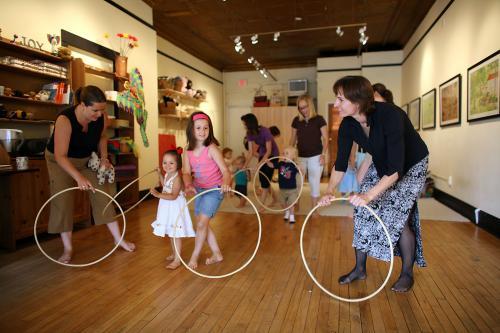 Photo by Frank Pinc
Take a moment to watch a video about Musikgarten Note: You will need quiktime to view the movie.
Click here to watch movie
Why We Teach Music




Not because we expect you to major in music.




Not because we expect you to sing or play all your life.




Not so you can relax.




Not so you can have fun.




But, so you will be human.




So you will recognize beauty.




So you will be sensitive.




So you will be closer to an infinite beyond this world.




So you will have something to cling to.




So you will have more love, compassion, gentleness, good

-in short more life.


-Author Unknown