REGISTRATION IS OPEN FOR THE SUMMER SESSIONS.
We will open registration for the Fall 2016 session on June 1st. Our currently and regularly enrolled families will have priority enrollment for the Fall session: June 1 - June 20.
We hope to offer more afternoon & evening classes in our year-round schedule. Are there class times & days that work better for your schedule? Please let Katy know at: musikgartenoakpark@gmail.com We appreciate your input.
6 WEEK SPRING SESSION
APRIL 25- JUNE 6
Note: Saturday's last class meets on June 11
4 WEEK SUMMER SESSIONS*

SESSION I: JUNE 13 - JULY 11
No classes on Monday, July 4

SESSION II: JULY 25 - AUGUST 20

*Make-ups allowed for missed classes.
NEW CLASS TIMES FOR ZUMBA. Ongoing classes. Begins Monday, May 9.
​
Mondays and Tuesdays at 6:30 P.M.
14 WEEK FALL SESSION 2016
TUESDAY, SEPTEMBER 6 - DECEMBER 17
No classes Tuesday, November 22 - 26.

14 WEEK WINTER SESSION 2017
JANUARY 9 - APRIL 22

6 WEEK SPRING SESSION 2017
APRIL 24 - JUNE 5

Classes posted on our Class Schedule page.
FREE PREVIEW CLASSES
Monday, June 6
Family Music 9:45 A.M.
Family Music for Babies (Baby to 17 mos.) 11:30 A.M.
Tuesday, May 31
Family Music 9:00 or 9:45 A.M.
Family Music for Babies (Baby to 17 mos.) 10:15 A.M.
(
Class meets next door at the Actors Garden)
Cycle of Seasons (3 – 5 years) 9:45 A.M.
Family Music 10:45 A.M.

Thursday, June 2
Cycle of Seasons (3 – 5 years) 9:45 A.M.
Family Music for Babies (Baby to 17 mos.) 11:30 A.M.
Music Makers at Home (4 - 5 years) at 1:00 P.M.

Cycle of Seasons (3 – 5 years) 10:30 A.M.
Saturday, June 4 & 11
Family Music 8:45 A.M.
Please contact Ms. Katy at: musikgartenoakpark@gmail.com
Advance registration is required.
_________________

When music and movement are a natural, joyous part of childhood, children benefit greatly in many areas of life. Language development, self expression, memory skills, concentration, social interaction, fine motor skills, listening, problem solving, teamwork, goal setting, and coordination are all impacted by early music and movement education. What's more, as a child learns to play music, other areas of development - creativity, family bonding, self-esteem, confidence, emotional development - are positively impacted.

Musikgarten's philosophy is steeped in this understanding. Movement and music activities are perfect for child development. Music immerses the child in language, evokes movement, stimulates the brain and fosters physical coordination - all in a group setting that builds community - a truly holistic experience.
We believe that:

All children are musical.

Music meets the needs of children.

Music benefits the whole child, must be introduced early and must involve the family.

By using only the highest-quality educational resources and instruments, we can help deepen a child's appreciation for music and the natural world around him, building a foundation for life-long music making.

Providing an appropriate musical experience and following a carefully sequenced approach to music reading allows a child to participate fully in musical experiences of all kinds.
Our approach to music education is fun for children, parents and teachers. As a result of our sequential pathway to music education, children can become independent, thinking musicians. To foster music literacy, Musikgarten offers a comprehensive early childhood program that spans the first nine years of a child's musical development. Children love the progression from semester to semester, as patterns and songs are repeated and built upon, addressing students' needs at each level. The Musikgarten experience culminates in group piano lessons.


"Children must receive music instruction as naturally as food, with as much pleasure as they derive from a ball game, and this must happen form the beginning of their lives." Leonard Bernstein
---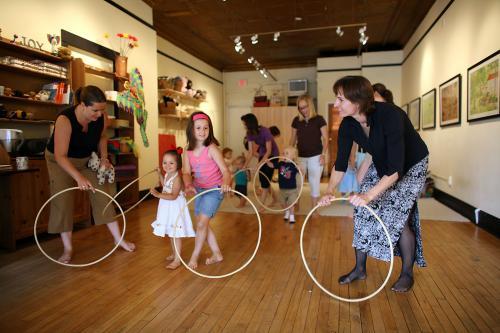 Photo by Frank Pinc
Take a moment to watch a video about Musikgarten Note: You will need quiktime to view the movie.
Click here to watch movie
---
ZUMBA AT MUSIKGARTEN

A total workout, combining all elements of fitness – cardio, muscle conditioning, balance and flexibility, boosted energy and a serious dose of awesome each time you leave class. Class instructor: Sara Sommervold

Mondays & Tuesdays: 6:30 P.M.


Class fee: $10 a class. Please be sure to register here so we have your contact information. Bring your payment to class. Bring cash or check (payable to: Musikgarten of Oak Park) to class each time.
MAMA & BABY FIT
Mama & Baby Fit: Wednesdays at 12:30 P.M.
Tuition: $125
To register or for more information email: nicole @mamasgottamove.com

If you're a new mom who is eager to get back into a workout routine, but feel like your body isn't quite the same since baby came along, that's because it isn't.
More than two thirds of women develop diastasis recti, a separation of the abdominal muscles, during pregnancy.

More than 60 percent of second-time moms experience pelvic floor dysfunction, such as incontinence.

Performing sit-ups, crunches and planks postpartum can prevent your abdominal muscles from healing and contribute to a "belly pooch."

Dysfunction of the pelvic floor and/or abdominal muscles can lead to imbalances and injuries elsewhere in the body.
In this class, you'll learn how to strengthen your core and pelvic floor muscles, restore alignment and move well with your baby.
Recommended for mamas with babies ages 8 weeks to 9 months (or not yet mobile). A portion of the class involves wearing baby in a front carrier. Class is capped at 6 participants.
5-week sessions of Mama & Baby Fit at Musikgarten of Oak Park

Mama & Baby Fit: Wednesdays at 12:30pm

Email nicole@mamasgottamove.com for more details.