14 WEEK WINTER SESSION
JANUARY 8 - APRIL 29
No classes: March 24 - 29 & April 18, 19, 23 & 24.
Wednesday & Thursday classes finish the session on April 16 & 17)
It is not too late to register. Tuition will be pro-rated.

6 week Spring Session
April 30 - June 10
No classes Memorial Day, May 26.
Last Monday class meets on June 16

FREE PREVIEW CLASSES
Monday, March 3, 10 & 17
Family Music for Babies (baby-17 mos.) 11:30 A.M.
Music Makers at Home (4 - 5) 1:15 P.M.

Tuesday, March 4, 11 & 18
Cycle of Seasons (3 - 5 years) 9:30 A.M.

Wednesday, March 5, 12 & 19
Family Music (17 mos- 3 years) 9 A.M.
Family Music for Babies (baby-17 mos.) 11:30 A.M.

Thursday, March 6, 13 & 20
Cycle of Seasons 9:45 A.M.
Music Makers at Home (4 - 5) 1:00 P.M.

Friday, March 7, 14 & 21
Cycle of Seasons (3 - 5 years) 12 noon

​Saturday, March 1 & 8
Next door at the Oak Park String Academy. 350 Harrison St.
Family Music (17 mos- 3 years) 10:00 A.M.
If a class has an opening, a free preview can be arranged in designated classes. Please contact Ana at musikgartenoakpark@gmail.com Space is limited. Advance registration is required.
Harmonica Workshop with John Milan
Saturday, April 12 2014 1 - 3:30 P.M.

You will be playing songs & having fun with tunes (variety of styles) you know & love during this 1 1/2 hr. class. The value and the fun doesn't stop here because you can then teach your children (ages 5/6 & up) the same songs. Save the date on your calendar and you and your family will be glad you did!!

Workshop fee: $30 Workshop fee includes 1 Hohner Harmonica 10 hole (Key of C) & a Song Booklet. Materials are for you to keep.

John Milan, master teacher, teaches harmonica in OP/RF schools. Teaching Harmonica & Drum set in the OP/RF area since '85, he's taught the very young to the young at heart. John's unique teaching style encourages musical ability, creativity and self- confidence. Get ready to have fun!!

ACTOR'S GARDEN TAKING REGISTRATION FOR THEIR WINTER SESSION!
The Actors Garden - where theatre and fun grow hand in hand! The Actors Garden, a theatre school brought to you by children's theatre veteran Gigi Hudson and the area's finest teaching artists, offers exciting theatrical adventures to your children. Actors Garden takes theatre education very seriously - so seriously that we believe theatre should be taught with a word that is not so serious: Fun!
Take a look inside and see how much fun your kids can have in the Garden!
Our Actors Garden Classes begin the week of January 6 and run for ten weeks. Classes meet at Musikgarten of Oak Park /The Actors Garden Studio, 344 Harrison Street Oak Park, IL 60304
We have course offerings for folks age 4-99 Course offerings include Introduction to Theatre, Story Fun, Musical Theatre,Shakespeare, Scene Study,choreography,beginning improvisation and a brand new Adult Improvisation class.

For full list of classes and schedule, please click on Events and News in the yellow left side of page.

Questions or to register call: 708 369-1055 or email gigi@theactorsgarden.com

Musikgarten Gala/Recital Photos.
A special thank you to our talented photographer, Eileen Maloney. She captured many joyous moments at the May 19 Gala and Recital. You can view/purchase the photos at: http://www.emphotography.net/2013-musikgarten-gala
Wonderful thanks to the Oak Park Arms and the gracious Desi Vasquez, social director at the Arms. I am tremendously grateful for their extra-ordinary support. "It is a wonderful world and it's all at the Arms."
When music and movement are a natural, joyous part of childhood, children benefit greatly in many areas of life. Language development, self expression, memory skills, concentration, social interaction, fine motor skills, listening, problem solving, teamwork, goal setting, and coordination are all impacted by early music and movement education. What's more, as a child learns to play music, other areas of development - creativity, family bonding, self-esteem, confidence, emotional development - are also positively impacted.
Musikgarten's philosophy is steeped in this understanding. Movement and music activities are perfect for child development. Music immerses the child in language, evokes movement, stimulates the brain and fosters physical coordination - all in a group setting that builds community - a truly holistic experience.
We believe that:

All children are musical.

Music meets the needs of children.

Music benefits the whole child, must be introduced early and must involve the family.

By using only the highest-quality educational resources and instruments, we can help deepen a child's appreciation for music and the natural world around him, building a foundation for life-long music making.

Providing an appropriate musical experience and following a carefully sequenced approach to music reading allows a child to participate fully in musical experiences of all kinds.
Our approach to music education is fun for children, parents and teachers. As a result of our sequential pathway to music education, children can become independent, thinking musicians. To foster music literacy, Musikgarten offers a comprehensive early childhood program that spans the first nine years of a child's musical development. Children love the progression from semester to semester, as patterns and songs are repeated and built upon, addressing students' needs at each level. The Musikgarten experience culminates in group piano lessons.
Ms. Kristin leads the children in Mouse, Mousie at the Musikgarten Gala.
Photo by Eileen Molony www.emphotography.net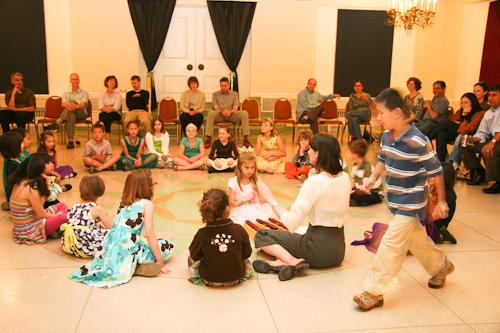 ---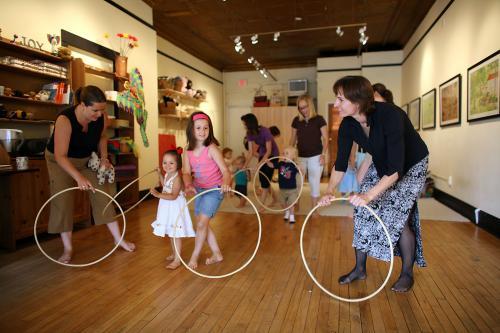 Photo by Frank Pinc
Take a moment to watch a video about Musikgarten Note: You will need quiktime to view the movie.
Click here to watch movie
---