Testimonials
"Our Musikgarten classes are great one-on-one bonding time for me to spend with each child. We have been coming since our oldest daughter was a year old and believe our girls probably don't know a life without "Saturday morning music." What a wonderfully holistic experience for us all! Classes are an enjoyable and joyful time together and it's so wonderful that we can continue the fun at home... singing well-loved songs, making up new ones, repeating stories and adding movement and instruments. Especially beneficial are the themes from our Musikgarten classes - they apply to almost every situation. We are more observant of nature's rhythmic wonders and feel we "experience" more of life together by engaging all senses, expressing ideas and impressions through speech, song, dance, playing instruments. An awareness has been awakened; we've learned how to rejoice in the pure joy of living. Thank you for the incredible gift you have given our family!"
~Jolene Ostry

~My son is 8 and in third grade in Oak Park district 97. At one of the parent events at his school, his music teacher approached me and asked who had been teaching him. The teacher said he was so impressed with my son's ability to recognize what key a song was in and to play short melodies by ear. I replied that he had been in Musikgarten of Oak Park classes since he was six months old, from Family Music for Babies to Keyboard II. I was pleased that all of our hard work and investment (and yes, fun!) paid off and I continue to be so happy to count Ms. Amy, Ms. Maria, and Ms. Ana as important influences in both of my children's lives."
~Alexandra Levit Shankman

"Tell Ms. Amy to make the music class really, really long so it never ends." 4 year old Anna's request to her sweet nanny, Marrissa.
~ Anna

"We believe in and wholeheartedly support the global approach of the Musikgarten pedagogy. As our two children have progressed through the literature in the last nine years, we have enjoyed sharing and learning the folk songs, chord structures, and movement patterns; that "vocabulary" is part of our family culture.

"So much of it is the basis for their piano proficiency too. There are no words to express the true joy that my son experiences as he masters piano pieces as beautiful as a Bach prelude. He is adept in band and jazz band too, thanks to the ensemble experiences and holistic approach of Musikgarten curriculum."
~ Mariannell and Tom Bassett-Dilley

"Prior to registering Ainsley for our Wednesday morning Family Music class, we heard wonderful things about Ms. Amy and the class. Having now participated, I must tell you that our expectations have been well exceeded. What talent, energy, and joy you bring to us through music! I am so impresssed with the types of activities, consistency, musical concepts explored and overall "tone" you set during the class. Every Wednesday morning Ainsley and I look forward to our time at Musikgarten - we arrive eager and leave joyous - truly. As someone who studied music, it is fantastic to see my daughter's musical abilitiies and world expand.

"Ainsley and I continue to adore our Wednesday morning class. Ms. Amy and the overarching Musikgarten pedagogy are amazing. As Ainsley gets closer to age 3, my husband and I are shocked with her musical memory, her interest in making up her own tunes, her confidence making and mimicking rhythms, etc. Musikgarten feeds her and helps us by providing us with tools to support her growth at home. Just fantastic!"
~ Jen (& Ainsley) Avers

"I can't believe that we have been a part of the beautiful Musikgarten family for 9 years now! In all that time, I have failed to write to express my thanks and gratitude. The wonderful Musikgarten teachers have helped to give my daughters such a love and appreciation of music. We sing Musikgarten songs as lullabies; we play Musikgarten CDs in the morning to get off to a relaxing start, and during homework time to concentrate. They associate that music with comfort, love, joy and happiness because of all the good times we have shared in their classes.

"There are two things in particular I would like to share with you at this time. One is what an absolutely wonderful addition Ana is to the Musikgarten teaching team. She is a beautiful person with a lovely voice, and she inherited your magical way with children. She really helped my youngest daughter, Sarah, come out of her shell. When we were transitioning from the Family Music (mom and child) to Music Makers at home (where she was on her own), Ana made all the difference. Sarah was always very shy in class, never wanting to leave my lap. Ana was just getting started at that time, sitting in with you on your classes. Sarah took an immediate liking to her, and when she found out that her next class was going to be with Ms. Ana, she was excited and happy to go, and her independence just blossomed due to her comfort level with Ana. Ana has a natural ability with children. This, combined with her musical and theater background, makes her a wonderful, engaging teacher.

"The other thing I would like to share is what a difference it made for my younger daughter to take the Music Makers series of classes. My oldest, Madeleine, took classes as a toddler up to Family Music, but then we weren't able to fit the pre-piano classes into our schedule. We found our way back and she is now almost done with the piano program. But now that Sarah has been through the Music Makers series, I see a big difference, and I am so glad that she was able to take part in these classes. Even though she has not yet started piano, she sits down at the piano for fun, improvising, making up her own songs. I can't tell you how many times I waited in another room, listening to her creations, not wanting to interrupt her process and break the spell. She would run over afterward and tell me the story she was making up as she was playing. "When I was playing up high, the butterfly was fluttering around the flower, and when I was down low, the bee was chasing her..." Just heartwarming!

"Besides the creativity that she feels free to express with music, I also appreciate all of the pre-note reading activities in the Music Makers series of classes. This work, which in any other setting could be dry and boring, just came to life in Ana's class and was presented in such a fun, no-pressure way. The small group setting, the movement associated with the skill, and the warm environment all contributed. This was something that my older daughter misses out on, and I now see the benefits of the skills that are taught in these classes. If I could do it all over again with Madeleine, I would change our schedule to make these classes a priority!

"The confidence she gained during this important time is so apparent. Besides being able to express her own ideas in a musical way, she is able to sit down at the piano and figure out songs that she has been hearing her whole life in your classes. She has not even started the keyboard classes yet, but she has already taught herself Hot Cross Buns, Minuet, Ode to Joy, and others. It's amazing to see the musical ear she developed, and how that contributes to her being able to figure out these songs she loves!

"I am so grateful for all that Amy and her team does and we feel so lucky to have found them and the Musikgarten program. I feel like this program absolutely accomplishes my wish of helping my children to love making music, not just play notes on a page. We appreciate all of the wonderful memories, and we look forward to the rest of our time there. We just wish it didn't have to end after Book 6."
~ Marguerite Roza

"The music curriculum is enjoyable for both children and adults (who are attending the class). There is so much variety and activity. The class never seems boring or drawn out. Our instructor, Ms. Ana, is the best music teacher I have experienced, both in this area and the city. By far, the most talented!"
~ Virginia

"We love Musikgarten. My son has been attending class since he was 10 months old (now 16 months) and absolutely loves listening and making music at home and at class. His teacher, Ms. Ana, is not only a very talented vocalist but shows true caring for each of the little ones in her class. It has been a great experience for our family.
~Kara McDermott

"Ms. Katy knows how to get the children's attention. She also interacts with them in a way that makes them feel welcome, accepted and loved."

"Ms. Laura is wonderful at keeping the children focused and making learning fun. She is calm et energetic and playful."

"Ms. Laura is sweet, kind, patient and fun. She makes learning enjoyable."

"Joelle is so fascinated by everything we do in classs! From singing and dancing to using instruments and playing with props (especially the parachute and bubbles). Musikgarten has opened up a whole new world to her!"
~ Kristen Schumacher



"From baby through kindergarten, Ms. Amy and her instructors' methods have nurtured my two boys in a consistent and progressive way. Through our participation, my boys have developed much more than musicianship. Ms. Amy's studio is a gem in our community for families that place a high value on early childhood music-making."
~ Heather Guido

"Ms. Katy has a way with children and they all seem to love her."

"Ms. Amy engages children and parents in creative ways. She is truly an amazing teacher and has developed a magical bond with my child. Furthermore, in addition to great musical and pedogogical skills, Amy is a wonderful person and makes you feel like you are part of the "musical family."

I have seen considerable growth in my child since beginning Musikgarten 3 years ago when Victoria was an infant. She often times sings songs and make me duplicate activities done in class. I greatly appreciate all that Musikgarten does for our community. Children are very happy and positive when surrounded by music. That helps grow a new generation and build their future habits! Thank you, Ms. Amy, Ms. Katy, Ms. Ana and Ms. Laura! You are all amazing, and I greatly appreciate all your hard work."
~ Agnieszka Dyna

"I am so happy my daughter has continued with Ms Amy and Ms. Ana. Zoe has attended Musikgarten classes since infancy and will be turning 6 this fall. Musikgarten has grown right along side her. She loves singing the repertoire and now we play games trying to identify the instruments we hear. For instrumental pieces, she comes up with story lines that the music illustrates. Her musical imagination has developed as well, as she makes up her own songs and melodies. The most wonderful part is that she does this all so naturally.

"As a parent, I feel fortunate to have the opportunity to be a part of her learning process, and love Musikgarten's emphasis on making music as a family. The oral storytelling introduced in the Cycle's level has built her language vocabulary and imagination. In the Music Makers levels, she was actually drawing rhythm patterns and identifying solfeggi patterns on the staff. She'll listen to a song and say thing like "that was so mi do" or drum rhythm patterns.

"I cannot be more pleased with the enjoyment she has for making music as well as her awareness and knowledge of musical concepts. Amy and Ana clearly know what the are doing and bring such sheer joy to the classroom. I do not even think the kids realize how much they are learning! Thank you so much for your talents and enthusiasm!"
~ Maria
"My family has been a part of Musikgarten for 6 years. We started taking my middle son when he was a baby and then once my next son was old enough to register, I did so eagerly. To say that Musikgarten has been wonderful for my children and myself would be an understatement. Recently, we have had the pleasure to have Ms. Ana as our teacher. Ms. Ana has a gift with children - she makes my son feel very special and her beautiful smile lights up our day. After having Ms. Amy as our teacher for many years, we felt very blessed to have her daughter teach our music classes. Ms. Ana's voice is beautiful and her enthusiasm shines through when she teaches. She has started to teach more advanced musical concepts, but she does so in a manner that is developmentally appropriate for the children in our class. My son loves seeing Ms. Ana and despite getting older now, he still loves going to Musikgarten!"
~ Rachel Rettberg
"Jonah has been attending Musikgarten classes since he was 6 months old. Now, at 7 1/2 he is in his second year of keyboard and his progress with Ms. Maria has been incredible. He confidently reads music and plays simple songs with both hands and enjoys coming to class. Thank you to Ms. Amy and Ms. Maria for instilling in my children an early love for music!"
~Alexandra Levit Shankman

"Isabel and I have both so thoroughly enjoyed this unique approach to learning piano. I so appreciate the true musicality that it is building within Isabel. Just this week, she has taught herself how to play Frosty the Snowman in 5-finger position with chords (by ear) and now is having fun transposing it to as many keys as possible. This is what music should be!!! The music and creativity come from within her as opposed to her just trying to follow something written on a page. THANK YOU FOR YOUR WONDERFUL WORK!!!"
~ Anne Marie Evans

"I started going to Musikgarten of Oak Park as a way to meet other families. I was new to Oak Park and all my neighbors told me Ms. Amy's music was the best. My one year old daughter instantly took to the warm atmosphere, relaxed structure, and wonderful music. When my son was born, we added him to the mix and kept singing the songs at home.

"It is now 5 years later. I have three children in the Musikgarten program and I have recently started taking the adult keyboarding class. I would have never considered any of us "musical people" but the structure of the program, the way each class builds on the previous one, the way that music, listening, and singing have become an every day part of our lives, speaks volumes.

"My children are about to enter the keyboarding program and I have no doubt they will succeed and love it because of the foundation of all their previous classes. Of all the options available to parents these days, I am glad that my family has stuck with Musikgarten. I truly believe that they/we all have become music-lovers for life."
~ Christa Desir

"Joshua and I absolutely love music class with you and all the teachers at your studio! Thank you so much for providing us with such wonderful experiences! Dan (my husband) and I are so thrilled and excited to see how much Joshua loves music class, and how he is absorbing everything, and how he sings, plays, and makes music at home and out-and-about!"
~ Kathy Kowitz
"I have to let you guys know that Annaliese misses music class so much! We probably listen to the CDs/songs more all summer long than while we were in the class. She plays the "drum song" on everything that can be a drum singing "Hi-ya-ya-ya..." and "Trit Trot" (the Macaroni song) is by far her favorite. "Shoo Fly, Don't Bother Me" and others have come up frequently over the summer with all the flies and bugs she's discovered. Annaliese sings along with "Chatter with the Angels" and several others now--always giving me a turn with the "microphone" (Bah-Bah-Bah). I know this class has had a lasting impact on her and she is a very musical child. We look forward to the Fall session."
~ Donna Hartin

"My granddaughter and I attend the Tuesday class, and we just love Ms. Katy. Ms. Katy's soothing voice and lyrical movements create a gentle and magically musical playground! It is an effortless way to learn music basics and make new friends. Thank you, Mrs. Katy!"
~ Kat Butler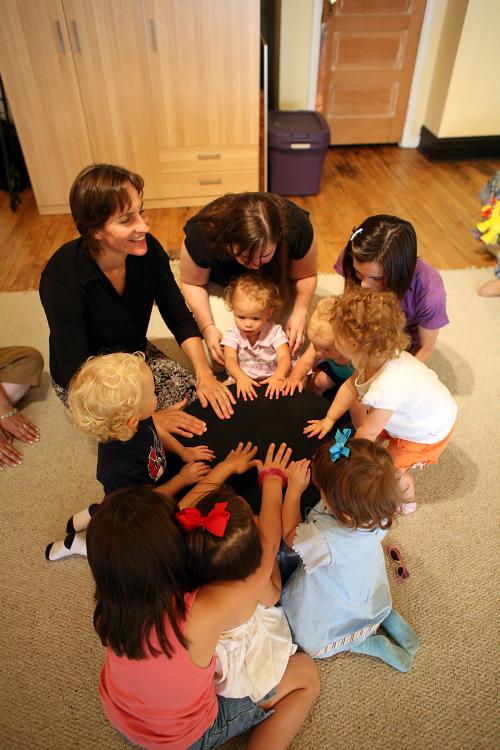 Photo by Frank Pinc
Mama & Baby FIT Testimonials for Nicole Radziszewski
"I signed up for Mama + Babe FIT when I was 8 weeks postpartum thinking I'd ease back into exercise, have a fun activity with my new baby and meet some other new moms. I was a veteran boot-camper and runner before and during pregnancy and was ready to transition back to my old routine. Nicole's class was perfect for that transition. She checked me for diastasis recti and taught me a series of breathing techniques and strengthening exercises to promote continued healing, prepare my core for more strenuous activity and move safely while caring for my increasingly heavy baby. She also cautioned me to avoid some of my usual exercises because they can cause harm to a healing pelvic floor. Without this advice, I would have no doubt pushed myself too hard.
My son and I both enjoyed the class and we've followed it up with Nicole's stroller class to increase the intensity of the workout while continuing to focus on the unique needs of new moms. I highly recommend working out with Nicole to take care of your healing body postpartum."
"Nicole's Mama & Babe FIT class has been great. Not only does she know what she's doing as far as helping new moms get back in shape, but she's also a lovely person. She keeps the vibe very welcoming and not intimidating. I feel stronger and I'm learning how to do exercises correctly instead of just trying to follow a youtube video! The camaraderie among the moms is an added bonus!"

--Heather B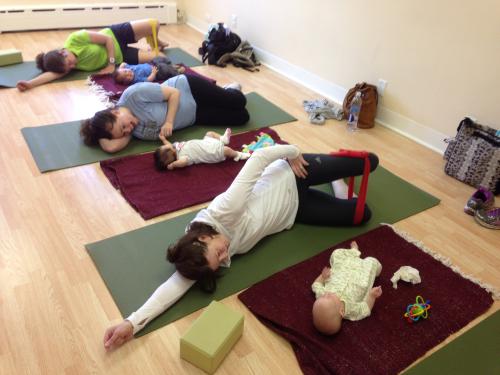 Nicole Radziszewski, CPT
Fitness writer and personal trainer